---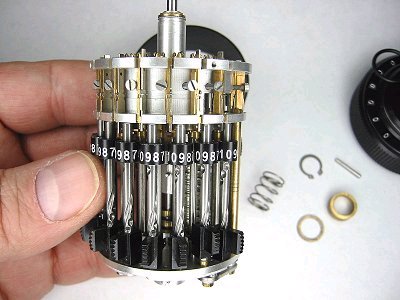 Click here
Update - I talked with Jack and he's over a year behind in repairing CURTAs.
I don't recommend you send him your Curtas until further notice. -Rick-
Here are a few questions I asked Jack:
What do you charge to clean a Curta?
Typically $115 to $280, depending on the type of Curta [Type I or Type II] and the work involved. In those situations where only the upper carriage or the main body needs work, the fee will be at the lower end of the price range. More often than not, the entire machine needs a complete disassembly. It is my preference to thoroughly clean everything, so the charges are usually toward the upper end of the price range. If a full restoration is needed, the cost may even be higher. If something internal is bent, out of adjustment, or broken, the entire machine usually needs a complete disassembly.
What do you charge when repairing a Curta?
I charge $65 per hour of my time. It seems my hours are about 90 minutes long, however, because I rarely finish in the time I originally quoted. Extended repair time is absorbed by me.
What spare parts do you have? Are they expensive?
I actually have many hundreds of new original Curta parts. Most are for inside the instrument, though. I use them when I do general cleaning and repairs. Outer body pieces, replacement cannisters, and external parts that are easily damaged or broken due to abuse are not generally available, although I do occasionally locate some these items. Sometimes I have to fabricate a part, or repair an item as best I can. Obviously, this takes time, and the cost is high.
Parts costs are charged as the traffic will bear. I usually try to be blunt about this to the Curta owner, often telling them that a severely damaged unit is best sold as a "parts Curta". Unfortunately, I've sometimes had to tell this to someone who wanted to repair a Curta looked upon as an heirloom. What to them appears to be a minor issue actually turns out to be a major problem (e.g., a crank handle tilted downward is due to a broken main shaft).
Costs for both a cleaning and typical repair is often between $150 and $250. I think the most I ever charged for a repair was about $500...there were many serious problems with the machine. Generally, when the price gets to be above $300 many people simply keep the damaged Curta as a memento.
Can you replace a clearing ring? What costs are involved?
Plastic clearing rings are available. I have several new ones, but I typically do not sell them separately as a spare part. Rather, I install them during a general cleaning and repair. I can modify a Curta that originally had a metal clearing ring to allow a plastic clearing ring to be used. There are special rivets for this purpose, which I have.
Metal rings are more difficult to replace. As with the plastic clearing rings, I will only install a metal clearing ring during a general cleaning and repair. It takes a special tool to properly swage the rivet in place. [Editor's note: Very old Type I clearing rings were held on with a screw and nut. The nut was crimped to the screw threads below the clearing plate. Don't turn the screw! You'll break the screw and/or strip its threads!] I have only a very few new metal clearing rings for both the Type I and the Type II. I also have used metal clearing rings [that were removed from damaged Curtas] for both the Type I and the Type II. The new Type I metal clearing levers are so rare that I will only install the ones I have on very old or very special machines. The cost for a new Type I clearing ring is extremely high. The rivets needed to install a clearing ring are special too, but I do have a few.
Jack's company, Timewise also manufactures a line of rally equipment for TSD competition. The units include TSD computers for running in a Computer Class, units designed for Odo Class competition, and competition and checkpoint clocks. Jack can be contacted for special-order equipment or particular modifications desired for Timewise equipment. Jack also repairs older Zeron equipment. A wide selection of sending units are available.
Jack Christensen
chronos(at)comcast.net
Timewise
32 Old barn Road
Hawthorn Woods, Illinois 60047
(847) 550-5052 (evenings)
http://home.comcast.net/~timewise1/
http://www.curta-repairs.com